Sun Room Hangout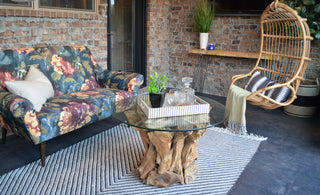 Walk-Through the Small Makeover
When I first built my home, I added the sun room addition, basically a walled-in patio with a glass overhead door to the backyard. When I first moved into the house, I threw some patio chairs against the wall, and decided to put off decorating the space for a while. This past Thanksgiving, there was a large crowd coming to eat and we wanted to finish out the space for all our guests to enjoy. My husband and I wanted a cool and cozy space with a "bar-like" atmosphere and modern and eclectic vibe for entertaining family and friends. We did a little makeover of the space and are in love with the result!
The space had concrete floors, brick walls with messy mortar, and the ceiling was simply left unfinished and painted white. The floors and walls basically blended together because there was no color contrast happening at all. I love my messy brick walls and wanted to highlight the texture, so we decided to provide some contrast with a bold floor color, Charcoal. We used a
semi-transparent concrete stain
from Home Depot in 'Dark Coal' to stain the concrete floors. We used two coats of stain to get an even look that still seemed somewhat raw by showing the imperfections (a look that I personally enjoy in the right spaces). The next evening, we sealed the floor with a
low-lustre sealer
, also from Home Depot. Within hours the floor was dry and we were ready for the next step, furniture.
We created a furniture layout and plan for the new and existing pieces. The main item that inspired the room design was my 
hanging rattan chair from Serena and Lily.
The rest of the room was completed with locally purchased pieces at great budget prices along with some pieces I already had for a quick and wallet-friendly mini re-design project. As soon as the floors were dry, we were installing all the furniture and accessories immediately! 
The Final Result | Total Makeover Budget: around $1,200
The next big project in our home will move us into the backyard, very exciting! This will include concrete, a pergola, and an outdoor kitchen. So, get ready to see a bit of a larger scale project than this one! Getting a home exactly how you want is an evolving process as you change and grow personally. I am so glad we get to share our own projects and projects we do with our clients here at Collected!
                                                    
Lauren Dewbre
Co-Founder + Principal Interior Designer